Sexy Sarik & Khorovats Barbecue
Armenians love barbecue, called khorovats in Armenian. That's one reason the "Meat and Fish" section is one of the biggest chapters in our book, and rightfully so. If you want to see an Armenian's eyes light up with joy, have a big barbecue party on a beautiful sunny day. And that's exactly what we did.

Roadside khorovats stands are as common in Armenia as McDonalds restaurants are in the US. And, no, there are no McDonalds in Armenia. If you visit Armenia's beautiful Lake Sevan, it seems there is a khorovats vendor along each and every mile of the lakeside highway. An Armenian barbecue is usually made with big, thick cuts of pork, and is cooked over the hot coals from a hardwood fire.

So, we invited our friends and family for a big khorovats picnic, a full day of fun in the sun with lots of good eats. Our chef-of-honor was Sarik Simonian, a self-proclaimed champion khorovats and kebab maker from Yerevan. Sarik means "Little Mountain", but he's the big guy when it comes to barbecue. If you ever fly to Armenia, you'll probably pass Sarik's home on your way out of the main Zvartnots airport. As you can see from our photos, Sarik is strikingly handsome. If he were a Hollywood actor, he could be the Armenian Yul Brynner, or Patrick Stewart, or maybe Telly Savalas.

We decided to make good use of Sarik's culinary skills. While David introduced the younger members of our party to the art of throwing frisbees (see David's posting below), Sarik fired up the mangal (grill). We attempted to learn some of Sarik's secrets for making delicious Armenian barbecue. It was a great interview, and we included his khorovats knowledge in our book. Sarik clearly validated his reputation as a master of the grill.

After observing Sarik's culinary expertise, we got out the digital camera for some photos. We noticed that Sarik had worn his "Long Beach State" tee shirt for the occasion, perhaps a gesture to ingratiate himself to us. As he started removing the delicious chops from the hot shampoors (skewers) with his bare hands, we began shooting. But then it was his turn to ask us some questions:






"How's this pose?"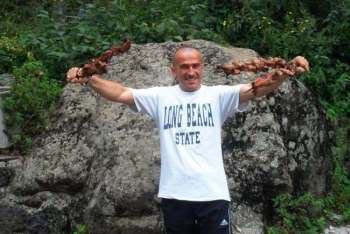 "It would be great for the cover of your book!"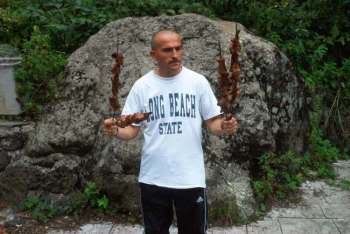 "Will you send a copy to President Bush?"




"Do you think American women will see my picture?"

Sarik's khorovats was exquisite, mouth-watering, and unbelievably tasty. To make everyone reading this blog hungry, here's a listing of our picnic-day menu:

Pork Khorovats a la Sarik
Grilled Potatoes
Grilled Eggplant
Lavash Bread

Until the next blog,
Irina

Khorovats barbecue, an ancient Armenian king called "The Carnivorous", and lots of other meaty information is in the new book, ARMENIAN FOOD: FACT, FICTION & FOLKLORE, ISBN 1411698659, by Irina Petrosian and David Underwood.

Food is the portal to Armenia's past and present-day culture. This culinary journey across the land called Hayastan presents the rich history, wondrous legends, and fact-filled stories of Armenian cuisine. In their book, authors Irina Petrosian and David Underwood take readers on a memorable tour of Armenia by way of the kitchen, answering questions such as:

What ancient Armenian fable warned against genetically-altered food?
What little-known Armenian fruit may have helped Noah on the ark?
What was the diet of David of Sassoun, the legendary Armenian Hercules?
What was the influence of the Soviet Union on the food ways of Armenia?
What strange and exotic fruits and herbs are sold in Armenia's markets?
Why do Armenians go to cemeteries to "feed" the dead?
What role did coffee and lavash bread play in Armenian marriage rituals?

For those curious about one of the world's most ancient cultures, or who are contemplating a trip to Armenia, the book provides extensive details and little-known information about both ancient and modern Armenia.

Frisbees, Carl Sagan, and Armenia

by David Underwood
Every time I visit Armenia, I include a couple of frisbee throwing-discs in my overstuffed luggage. Frisbees aren't popular in Armenia. I've never seen any for sale in the shops, and none ever being tossed by Armenians. I bring them to share with the Armenian children because it's a quick and easy-to-learn recreational activity. After a few minutes of hand demonstrations, the Hye kids are snapping the frisbees back and forth like champs.
You can't visit a park in the US without seeing someone hurling frisbees in a game of throw-and-catch. In fact, a huge frisbee golf course is just a block from our home in Bloomington, Indiana. Frisbee zealots have tried unsuccessfully to get it included in the Olympics, but the traditional Greek discus remains the Olympian flying disk of choice.
When I cram my frisbees into my suitcases, I always think of the man who first brought them to Armenia: the late, great astronomer and astrobiologist, Dr. Carl Sagan. Sagan is well remembered for his
Cosmos
TV series, and his many best-selling books, one of which,
Contact
, was made into a popular film starring Jodie Foster.
Dr. Carl was one of the few Americans to visit Soviet Armenia in the early 70s when he attended an astrophysics conference at the Byurakan Observatory, located on the southern slopes of Mount Aragats. During the breaks between discussions about supernovas, quasars, and "millions and billions of stars," Sagan amazed the conference attendees when he initiated a frisbee toss-and-catch on the stony grounds next to the futuristic-looking Byurakan Observatory dome. The scene is described in the biography
Carl Sagan: A Life
by Keay Davidson, and it always comes to mind when I'm preparing for the arduous journey from Bloomington to Yerevan.
I don't know why Armenians have never taken to the frisbee, because they're great at it. And it's an inexpensive, hard-to-wear-out piece of sports equipment. Perhaps it's just resistance to something new. When visiting Armenia's famed mineral water resort at Jermuk, I did some frisbee throws with the son of one of the Ministers of Parliament. The MP gruffly grunted in disapproval, and had only this to say: "What a silly game!" I wish he could see the many groups of young people outside my window right now, all having a great time as they play frisbee golf.
But that's OK. It doesn't matter if Armenia's politicians can't appreciate how much fun it is to throw and catch a frisbee. The children do, and I've seen lots of happy smiles as a result. That makes it worth the risk of bursting my suitcase seams when I shove in the frisbees.
Technorati tags:
Armenia
,
Armenian
,
Armenian Food
,
Food
,
Cuisine
,
Culture
,
Barbecue